Poured Concrete Foundation Waterproofing
Since the mid to late 1970's, residential foundation construction in around the Greater Toronto Area has typically involved the use of poured concrete; prior to that time, most foundations were built using concrete blocks or cinderblocks. Today, many custom homes and additions are still built with concrete block foundations; however, as a result of the exponential growth of the suburbs in and around the Greater Toronto Area, the poured concrete foundation has become the predominant foundation type.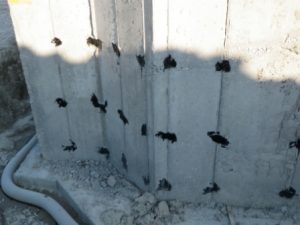 Pressurized Injection of Cracks in Concrete
In both industrial and residential applications, pressurized injection is a preferred concrete repair method for poured concrete and is widely used across the globe for both the structural repair of concrete and waterstopping. Additionally, pressurized injection is frequently specified as the repair method of choice by Civil Engineers dealing with concrete repair and waterproofing of commercial structures. In fact, the province of Ontario has created a specification for contractors performing concrete repairs entitled Ontario Provincial Standard Specification – OPSS 932 – Concrete Crack Repair. The widespread use and demand for pressurized injection confirms its use as a highly effective, low cost solution for foundation crack repair, wet basement waterproofing via the elimination of foundation leaks or potential leaks in poured concrete structures. In a residential setting, pressurized injection is always less expensive and usually less invasive than other waterproofing methods such as external excavation and internal de-watering.
Pressurized injections are widely used around the world and provide a cost effective means of water stopping. In fact, pressurized injection is commonly used to stop underground water leaks in many applications such as:
Leaky basements and foundation crack repair;
Rock fissures in mine shafts;
Leaks in subway tunnels;
Water ingress and egress in underground concrete structures such as storage tanks, cisterns, foundations, and parking garages;
Dams;
Swimming pools in apartment buildings and hotels;
Joints between sections of poured concrete sewer pipes; and
Leaking pipe penetrations through concrete walls.
External Excavation and Waterproofing
In addition to pressurized injection, external excavation and waterproofing is an effective method of waterproofing and damp proofing a poured concrete foundation. External excavation was the traditional way to address basement leaks in poured concrete basements; however, new technologies such as epoxy injection, polyurethane injection, and interior weeping tile systems have gained significantly in popularity in the last 10 years. Below is a list of the pros and cons, as well as other factors, that merit consideration before choosing this basement repair method for fixing your leaking basement walls:
1. The cost of external excavation is significantly higher than both pressurized injection and internal de-watering;
2. External excavation will require subsequent landscaping; where applicable, walkways, air conditioning units, decks and pool filters/heaters along the walls of the home in the area of the excavation need to be removed and replaced;
3. As with any excavation, there is a risk that hydro and gas lines in the vicinity of the excavation may be cut or damaged;
4. The deeper the excavation, the greater the risk of injury or death to waterproofing crews;
5. External excavation is a viable repair method when the inside of the home must not be disturbed; for example, when there is a wet bar or built-in bookshelves that cannot be moved;
6. An external excavation does not address the mold which has grown behind finished basement walls;
7. An external excavation does not reveal the source of a basement leak; this can only be positively established by visually observing signs of water ingress on the inside of the foundation wall;
8. The replacement of weeping tile does not guarantee that basement leaks will be prevented. Basement leaks are in fact prevented by the application of a rubber coating or membrane on exterior of the foundation wall.
Note: It is important not to confuse waterproofing with damp proofing concrete walls, as these terms are not synonyms.
9. During an excavation you have the opportunity to install window well drains;
10. During an excavation your weeping tile is replaced.
Internal Weeping Tile / Perimeter Drain System Installation
Internal perimeter drainage systems are also used for waterproofing of poured concrete basements. Internal weeping tile systems are used as an alternative to external excavation and waterproofing because these systems are generally not as invasive as external excavation; however, the cost can be very similar to the cost of excavation. Below is a list of the pros and cons, as well as other factors, that merit consideration before choosing this repair method for your leaking basement walls:
1. The cost of an internal perimeter drain system is significantly higher than pressurized injection (epoxy and polyurethane injection) and can easily be equivalent to the cost of external excavation and waterproofing;
2. Interior weeping tile systems do not prevent water from entering your basement. When cracks are the cause of basement leaks, the water within the cracks saturates the concrete surrounding the crack and weakens it;
3. Interior drain systems require the removal of the stud walls along the repair area;
4. A complete system installation requires the installation of a sump pump; if this is not installed the collected water will be dispersed beneath the basement floor which is not a recommended practice (it should be noted that it is against most municipal bylaws to drain these systems to the basement floor drain); and
5. Installing and interior weeping tile system has the advantage of getting rid of the mold which has grown behind finished basement walls, since the stud walls are always removed as part of the installation process.