As a homeowner there are a number of measures you can take to minimize or eliminate water entry into your basement and avoid spending a potential fortune on basement waterproofing. By changing the soil conditions around your home it may be possible for you to avoid basement leaks altogether.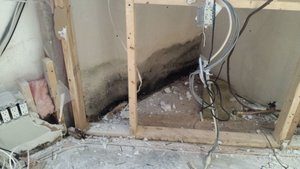 It is important to take steps before the rainy seasons (spring and fall) to prevent leaks creating a wet basement.
Here is a list of 10 things that you can do with relative ease and, in general, at minimal cost:
1. Ensure that all downspouts discharge rainwater at least 8-10 feet away from your foundation.
2. Ensure that soil and landscaping slopes away from the foundation to prevent water build-up.
3. If there is excessive water between your home and your neighbour's, create a swale or install a french drain to channel water to the front or back of your properties.
4. Clear window wells of any debris to assure optimal drainage.
5.Make sure that the caulking around windows and doors is in good condition in order to prevent leaks through the building envelope.
6.Grade the soil so that at least 4 inches of the foundation is visible above grade; this will prevent water front entering your basement from the top of your foundation walls.
7. Tuck point cracked mortar joints in brick walls to prevent rain from coming through the building envelope and leaking into your basement.
8. Confirm that roof and chimney flashing hasn't separated from vertical surfaces to prevent building envelope leaks. Caulk as required.
9. Ensure that sprinkler systems spray water away from the foundation.
10.Ensure that penetrations in the building envelope, such as those for gas, hydro and air conditioning lines are well caulked.