There are times when a sump pump is the answer to wet basement woes; unfortunately, believe it or not, many people hate the idea of having a sump pump in their basement. In this article we explain how sump pumps are used and why they can be valuable.
Contents:
Why sump pumps are installed in homes
Types of Sump Pumps
Our Recommended Type of Sump Pump
Desirable Properties of a Sump Pump
Sump Pump Backup Systems
Why sump pumps are installed in homes
A sump pump is installed in a basin (or liner) beneath the basement floor to provide drainage; it is used to mechanically evacuate water that flows into the sump liner (a large plastic container in which the sump pump is installed). The water that is brought into the liner can originate from several sources:
The weeping tile system installed around the exterior perimeter of your home;
Water beneath the basement floor that is present due to a high water table (the liner will only fill with ground water if it is perforated); and
From an internal perimeter drain system installed beneath the basement floor around the interior perimeter of the basement.
Types of Sump Pumps
In residential construction there are typically 2 types of sump pumps which are used:
Pedestal sump pumps; and
Submersible sump pumps.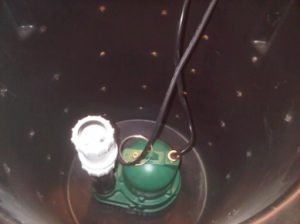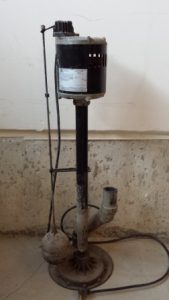 Note: In the event of power failures or failure of the primary pump, battery backup sump pump kits are also available. These battery backup systems use a trickle charged marine battery which has enough power to empty the sump pump liner approximately 2000 times on a single charge. These sump pumps are installed in the same liner as the primary pump and operate independently. Homeowners tend to purchase these systems when they are heavily reliant on their primary pump and cannot afford pump failure, especially when they go away on holidays.
Our Recommended Type of Sump Pump
At AquaGuard Injection & Waterproofing®, we recommend the use submersible sump pumps because they allow the liner lid to be installed flush with the floor, allowing you to place a freezer etc, or carpeting right on top of it, effectively making it invisible in a finished basement and it doesn't take up valuable floor space. Furthermore, submersible sump pumps are quieter than pedestal sump pumps and cast iron submersible sump pumps are highly reliable due to the absence of failure prone seals within the body of the pump. The following illustration shows a typical submersible sump pump installation.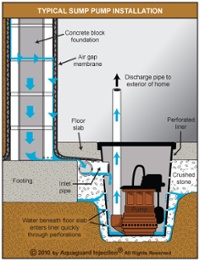 Desirable Properties of a Sump Pump
Within the waterproofing and plumbing service industries, there are preferred sump pump characteristics as follows:
• A perforated sump liner allows water beneath the basement floor, attributable to a high water table, to drain into the sump liner;
• An airtight lid to prevent water in the sump pit from evaporating and increasing the relative humidity in your basement. The lid also prevents foreign objects from falling into the sump liner and consequently interfering with the pump's float switch; and
• A submersible sump pump, made of cast iron construction, has no seals which can fail. The ability of our sump pump to process solids upto 1/4″ protects the sump pump from damage caused by large debris that may enter the sump liner, typically from a weeping tile system.
Sump Pump Backup Systems
Depending upon where you live, as well as your tolerance for risk, you may elect to install a battery operated backup pump in case there is a power outage of a relatively long duration. Battery operated backup systems feature a second sump pump installed above the primary pump, for protection in the event of primary pump failure, as well as battery power during power outages; additionally, they are typically equipped with alarms that advise you that your primary pump has failed.
Battery backup sump pump systems can be quite expensive (approx $900). If you live in an area with regular extended power outages, spending the money on a backup system is recommended if you are concerned about failure of your primary pump. In addition, if your sump pump runs constantly, because it is very much needed, a secondary pump is recommended when primary pump failure would cause your basement to flood.