There's no doubt that basement leaks are annoying and worrisome, especially where the cost of repairing a basement leak is concerned. In this post I'll discuss how to approach fixing leaks in your basement.
About basement leaks
The majority of basement leaks are the result of groundwater in the soil outside, under pressure, penetrating your foundation wall. Most basement leaks in poured concrete foundations (1980 to present) are the result of leaking basement foundation cracks and leaking forming tie-rod holes. Concrete block / cinderblock foundation walls (1930 – 1975) are quite different from poured concrete foundations; block foundation walls generally seep water that was able to pool within the largely hollow blocks themselves. The water generally gets into the concrete blocks by penetrating fine cracks in the mortar joints binding the blocks together.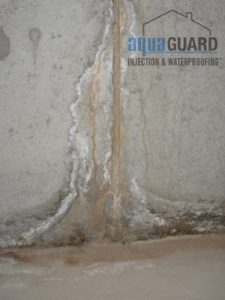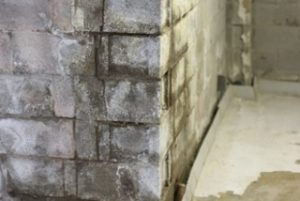 How basement leaks are fixed
The majority of basement leaks can be fixed either from the inside or the outside; in terms of which leak repair method is best or most appropriate, here are a few links to pages you might wish to read:
Fixing basement leaks has to start with being sure about why your basement is leaking because the approach that you take for fixing your basement leak is entirely dependent on what exactly is leaking. The good news is that many basement leaks can be fixed from the inside in a matter of a couple of hours for a few hundred dollars. Since there is no digging involved the cost is low and the lead time for interior work is much shorter than for exterior work; this is mainly because underground utilities need to be marked before it is legal to excavate
Basement leaks are generally fixed by sealing the area that is leaking on the outside or by filling cracks from the inside using a process called crack injection involving the pressurized injection of resin into a crack. When you put a patch over a crack on the outside of the foundation wall you prevent water from penetrating the patched area. The crack injection repair process, undertaken from inside the basement, fills cracks under pressure, thus eliminating the cracks completely. Concrete block foundations can also be fixed internally by installing an interior perimeter drain / weeping tile system. This system is effective, inexpensive as compared to excavation and can be installed anytime during the year regardless of the weather.
How to go about getting your basement leak repaired
In general, if you spend enough time learning about basement waterproofing and have the time and desire to excavate around your foundation you can waterproof your basement, or repair a leak, yourself.
If you are planning on hiring a company to fix that basement leak be sure to read: How to choose the best company to waterproof your basement. To get an idea of what fixing your basement leak will cost you may want to read this article on the average cost of basement waterproofing.