The cost to seal a foundation crack in the Greater Toronto Area as of May 2019 ranges between $350 and $800. That is the cost of a crack injection, which is a pressurized filling of a crack in the basement foundation wall.
To get a quote just click on this link.
Before grabbing the phone to find a guy who does it for $350 there are a few things you should know:
Why the cost to seal a foundation crack varies so much
In general, full-time waterproofing contractors charge more for foundation crack repairs than individuals doing crack injection on the side. You can count on well established waterproofing companies to honour their warranties if this becomes necessary down the road.
Some contractors hike up their prices in times of high demand. What costs $500 on a dry July day could cost you $800 when everybody's basement is leaking when the snow melts in April. You want to find an ethical waterproofing contractor with a set fee schedule. I don't think that the average cost to seal a foundation crack will surpass $600 before the year 2020.
Sealing a foundation crack is an art
While you surely want to pay as little as possible, in crack injection, quality is everything. You have to make sure you get the right people to seal your foundation crack; otherwise you might end up paying to have it injected again down the road. For this reason you should seriously consider hiring a company that has skilled and experienced technicians that repair cracks on a full-time basis.
The method used to fill the cracks is important to you
The sealing of poured concrete foundations by injection is done using low pressure and high pressure methods. I recommend high pressure polyurethane crack injection for a number of technical reasons; read about the differences between low pressure epoxy injection and high pressure polyurethane injection.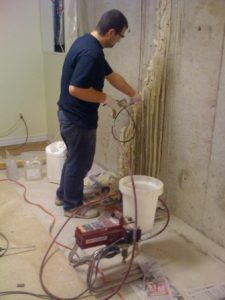 What would increase the cost to seal a foundation crack
In general most foundation cracks are <1mm wide and nearly vertical. It is when cracks are much wider or diagonal that you can expect to pay more because more material is needed to fill the crack and sometimes cracks need to be prevented from widening. Also, when a basement crack was injected in the past and the repair failed, re-injecting the crack is more challenging and sometimes more costly.
Follow this link for what we charge to seal a foundation crack.