After many years in the basement waterproofing business we have concluded that there is little as disturbing to homeowners as discovering a leak in their basement and the accompanying fear of the cost of leaky basement repairs. While every person has their own reason for concern about repairing a leaky basement, some of the most common fears are:
The belief that the repair of the basement leak is prohibitively expensive;
That excavating the foundation is required to fix a wet basement;
That home insurance rarely covers damage that is the result of a basement leak;
Carpeting, laminate flooring, baseboards, drywall and furnishings are damaged and/or moldy; and
A legitimate fear that dealing with a waterproofing contractor might turn into a nightmare.
From the brief list above, it is clear that there are various reasons to be concerned about a leaky basement. Fortunately, some of those assumptions are not entirely accurate.
Does Repairing a Basement Leak Cost a Fortune?
There are many different types of basement leaks; have a look at the following images: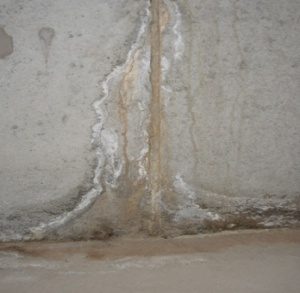 The images above are associated with typical basement leaks. In terms of repair cost, let's take a look at each of these types of leaks:
A leaking foundation crack – at the end of the day, a foundation crack is a vertical hole in the wall. From the image it is clear that there is sediment staining as well as efflorescence. The foundation is poured concrete which is solid and 8″ thick. Much like a windshield chip repair it is possible to fill the void by injecting resin under pressure, thereby eliminating the crack. The average price of a foundation crack injection as of November 2018 is $350 – $800 and typically takes about 2 hours to perform. Of course it is possible to excavate the wall and patch the crack on the outside.
The leaking tie-rod hole is 5/8″ in diameter and extends throughout the thickness of the wall. Like a crack, it too can be filled using pressurized injection of polyurethane resin at a cost of $200 as of November 2018.
Cracks and tie-rod holes contribute to over 90% of poured concrete foundation leaks which is fortunate for homeowners as these repairs are minimally invasive and inexpensive to repair.
A leaking concrete block (cinder-block) foundation wall is far more costly to repair compared to a poured concrete foundation because pressurized injection methods cannot be used. There are typically 2 or 3 hollow cells in the centre of each concrete block as well as many mortar joints which are predisposed to fine hairline cracking. Typically, a leaking concrete block foundation repair usually costs $3500 and up. Block foundations are waterproofed either by excavating the walls and applying waterproof coatings or by installing interior perimeter drain systems.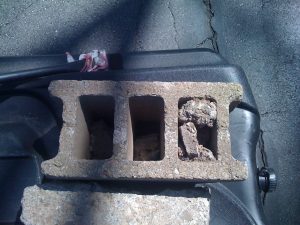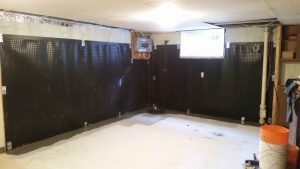 The exterior of the house does not have to be dug up to fix the problem!
It's a common misconception that all waterproofing must take place on the exterior of a building. In truth, the majority of waterproofing work can take place inside the basement. This is especially the case in houses with poured concrete foundations; as most leaks in these foundations emanate from either cracks or tie rod holes which can be easily identified and injected by a qualified technician.
There are exceptions however when injection may not be a viable option and thus excavation may be required; such as, when a leak occurs behind the electrical panel or behind a fireplace and cannot be accessed conveniently.
When finished basements are in need of leak repairs, having to access the crack or tie rod hole will involve the removal of drywall and insulation to expose the issue and provide access for repair. Though this may provide an inconvenience to the homeowner, it is far more cost effective and less invasive than the disruptive process of exterior excavation to waterproof. On average, the cost to repair a crack from the exterior is roughly 3 times the price of repairing it through injection.
It is also of benefit to note that the removal of drywall in the area where the leak has occurred will help prevent the growth of mold in the area preserving the health and safety of you and your family.
Concrete block foundations are the only foundation type where exterior waterproofing methods will need to be considered. Although, interior perimeter drain systems are by far the most popular solution because of their lower cost and are less intrusive. The interior method allows you to avoid having to disturb your landscaping and provides an opportunity to install a sump pump if you do not already have one, which also collects water from under the basement floor as well as the block walls. Overall the interior water-proofing method offers more benefits in comparison to the exterior method but each have their merits. To read more about concrete block foundation waterproofing click here.
Home insurance rarely covers damage that is the result of a basement leak
Many homeowners believe that their home insurance covers basement leaks, however this is rarely the case. Unfortunately every home will have cracks in its foundation, though not every foundation or crack for that matter will leak. When it comes to basement leaks caused by ground water, insurance companies will not cover the cost to repair basement leaks as they are extremely common. For coverage of basement leak repairs insurance premiums are astronomical and the deductible is typically $5000. Your home insurance typically covers only damage from large scale flooding such as a plumbing leak or sewer backup which may be a result of a significant natural disaster or an infrastructure failure in your community.
Leaky Basements can cause significant Damage
It is for good reason that people despise basement leaks because often a leak can cause serious damage in a finished basement. Carpeting, laminate flooring, drywall, baseboards and furnishings that come in contact with water that is not cleaned up in short order will allow the growth of mold. Even undiscovered leaks, such as a leak under a bookshelf or dresser may lead to swelling of laminate flooring and damage to personal effects. When water comes into a basement the damage can be very small or rather large and ignoring a basement leak could end up being quite costly to the homeowner in the end. Allowing a foundation to continue leaking within a finished basement can lead to mold growth on the interior or exterior of walls, rotten framing and even electrical wiring being exposed to water. If it is suspected that there is a leak in your basement it is important that you have a qualified waterproofing contractor assess it immediately.
Remember, leaky basements don't repair themselves EVER. If you are worried about what can happen to your basement and personal effects chances are it can happen. It is best to be proactive when dealing with a leaking basement.
In unfinished basements the consequences are not as severe. Provided you don't have personal effects that are coming in contact with the water, your main concern would be concrete foundation deterioration. Continued exposure to water causes concrete to break down and lose its structural integrity.
Dealing with a contractor doesn't have to be a nightmare
When it comes to the unknown, it is natural for most people to be afraid. As basement leaks aren't your everyday occurrence, it's important to make sure that you're basing your waterproofing decision not only on cost but also taking into consideration quality as well as the most efficient repair method.
Check out this post on hiring the right waterproofing to waterproof your basement.