The days of excavating around a house and waterproofing the foundation to repair cracks are behind us. In this post we provide the crack injection repair cost for poured concrete foundation walls and discuss related pricing variables.
How much does a foundation crack injection repair cost?
As of October 2019, in and around the GTA, the cost for an injection crack repair for a basement wall is in the range of $400 – $800 + tax per crack.
Why is there such a broad range of prices for crack injections?
Injecting foundation cracks is both a science and an art; in fact, many companies don't offer injection services at all because of the difficulty involved in performing the repairs reliably.
In general, a part-time handyman will offer polyurethane injections for $400 per crack because they don't provide a warranty and crack injection is not their primary occupation. Also, they likely don't have insurance or expertise that comes with being in the foundation repair industry. Professional contractors typically charge $495 and up for this type of basement wall crack repair.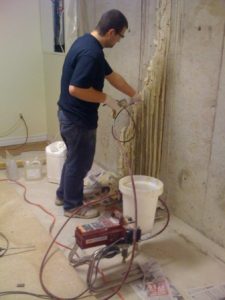 Situations when the cost of a crack injection can be higher
The price range of $400- $800 applies to at least 95% of foundation cracks. This is what it costs to inject cracks up to 8 feet in length; the height of most foundation walls. If the crack is diagonal, and therefore longer, you may pay an extra $100 or $200 depending on the overall length and other factors, such as ease of access.
Crack width is another factor that influences the price of crack injections. Crack widths greater than 1/8 inch (or 3mm), usually the result of foundation settlement, usually requires crack stabilization using reinforcing staples. Crack stabilization is required for <1% of foundation cracks and typically adds $100 – $200 to the price of a crack injection.
Almost all homes built since the late 1970's have poured concrete foundations, and there are very few foundations that don't have cracks in them. Most foundation cracks are hairline cracks which occur as the concrete is curing due to the evaporation of the water in the concrete; a phenomenon called plastic shrinkage.
How injection repair technologies have reduced the cost of foundation crack repair
Leaks in underground structures such as subway tunnels, sewers and mines cannot be repaired by the traditional method of excavating and waterproofing; this challenge necessarily led to the development of injection technology to fill voids in concrete with specialized resins for water stopping and repairing cracks. The use of this injection technology in residential applications has led to a dramatic reduction in the cost of basement leak repairs.
Both epoxy and polyurethane crack injection have been used in residential waterproofing applications since approximately 1980; these basement foundation crack repair methods are performed from inside the basement. Since excavation is not required, the cost of fixing a basement leak from inside by repairing cracks using epoxy and polyurethane injection methods is relatively low.
How much traditional basement waterproofing costs
The cost of excavating and waterproofing a foundation costs $1000's and is very expensive; as a result, many homeowners avoid dealing with the leaking cracks in their basements because they are afraid that it will cost them a fortune to get the foundation cracks repaired. Read our article on basement waterproofing cost.
The cost of injecting a foundation crack is the lowest price of any foundation waterproofing repair. Call around for pricing, if you must, but go with your gut when selecting the company to fix your foundation crack. There is a bit of an art to injection crack repairs, so you have to hire someone with expertise and a good reputation.