Over the years it has become clear that many homeowners delay or avoid having basement waterproofing work done because they expect that the cost of basement waterproofing will be a small fortune.
In this blog we cover practical strategies available to homeowners to dramatically reduce what they spend for basement waterproofing in order to take care of their wet basement.
Factors which determine basement waterproofing costs
The cost of waterproofing repairs is driven by several factors:
The cause of the basement leak;
The type of foundation that needs to be waterproofed;
The available waterproofing repair methods for resolving the basement leak(s); and
The accessibility of the foundation wall requiring waterproofing.
Opportunities to reduce basement waterproofing costs exist within the details associated with each of the factors listed above. Let's take a look at each of these factors to discover where cost reduction opportunities exist.
How the cause of a basement leak influences what it costs for waterproofing
You may not realize it but the cause of the leak in your basement plays a huge role in what it will cost you to have it fixed.
One example is leaking tie-rod holes in a poured concrete foundation; the cost of repairing the tie rod holes by polyurethane injection can be as low as $195.00. If the tie-rod holes are waterproofed by excavating and waterproofing your foundation, the cost will be in the thousand's. So, in this case, the repair method that you choose will dictate how much you pay to have the leaking tie rod hole fixed.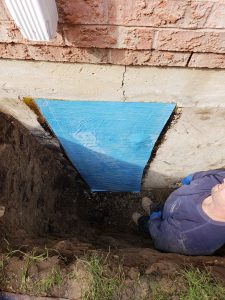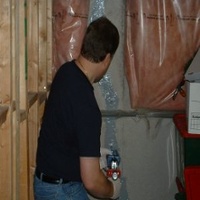 Similar logic applies to foundation cracks and other leaks through poured concrete foundations. While more expensive to repair than tie-rod holes, injecting foundation cracks from the inside costs about a third of what it would cost to excavate and waterproof the cracks in your foundation on the exterior.
Another way to save money on repairing basement leaks in poured concrete foundations is to have as many leaks as possible repaired at the same time; by doing so, you will save money by getting a volume discount on the waterproofing work.
How your foundation type influences the cost of waterproofing a basement
If you own a home built from the late 1970's to present, you likely have a poured concrete foundation. Since leaks in poured concrete foundations can be repaired using polyurethane and/or epoxy injections, the cost of repairing your basement leak will probably be in the hundreds of dollars. For homeowners with concrete block / cinder block foundations, pressurized injection is not an option; however, there are still opportunities for you to save money.
When it comes to waterproofing a concrete block / cinderblock foundation you have the option of excavating and waterproofing, which can cost you tens of thousands of dollars (depending on how much of your foundation you get waterproofed and other factors such as accessibility), or half of that (or less) by having an internal perimeter drain system installed. Both waterproofing systems work very well, but internal waterproofing costs much less because excavation is not required.
Choosing the least expensive waterproofing method is a great way to drastically reduce basement waterproofing cost
Just because one waterproofing method is cheaper than another it doesn't mean that the less expensive solution is not as good as the more expensive option (as long as the solution is a professional one and the work is done by true professionals).
The traditional, and of course the most expensive method, of waterproofing a basement is excavation of the foundation walls, applying a waterproof coating to the walls and installing new weeping tile. While there is nothing wrong with this approach, it is certainly the most costly waterproofing method available.
How accessibility affects what you pay for basement waterproofing
In virtually all cases, basement leaks can be repaired from the interior or the exterior; however, the actual method that you agree to can affect costs dramatically. For example, the removal of a deck or patterned concrete walkway to permit excavation makes it necessary to factor in the cost of replacement to the total basement waterproofing cost. Similarly, when there is no room to pile soil next to a side wall of your home, you will incur higher costs because transportation of the excavated soil, and its return for backfilling, will add significant cost to your basement waterproofing project.
Understanding the start to finish cost of proposed waterproofing work makes your choice of methods alot more realistic.
At this point you may wish to read a couple more pages on this site – just click on the hyperlinks below:
Basement Waterproofing Methods – a summary of the different methods appropriate to each type of basement leak classified by foundation type;
Basement Waterproofing Cost – a listing of current pricing for waterproofing repairs in the Greater Toronto Area; and
Your Basement is Leaking – Is it Time to Replace the Weeping Tile? – a discussion on the need to replace your weeping tile.