If you are reading this post you likely have a basement leak which you believe to be the result of one or more cracks in your cinderblock (or concrete block) foundation. While this is often the case, foundation cracks are not always responsible for the water in your basement. Interestingly, a good number of wet basements are caused by the water table rising rapidly after heavy rains or when substantial amounts of snow melt quickly. The presence of cracks in a cinderblock foundation may well be the main source of water ingress into the basement.
It cannot be stressed enough that determining the best method to employ to waterproof and repair your basement must be based on what is actually taking place at your home; understanding how your basement is getting wet, and the condition of the foundation, are of paramount importance.
How cracks in concrete block foundations produce basement leaks
In general, one rarely observes a crack in a cinderblock foundation with water visibly coming right through it into the basement. The reason for this is that cinderblocks store water. Let's have a look at the image below:
The anatomy of a cinder-block / concrete block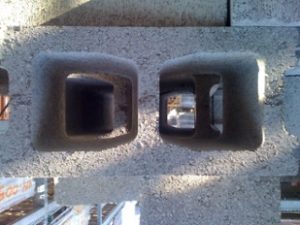 Once ground water penetrates a cinderblock foundation wall, the hollow cavities in the blocks will fill up with water. If the water in the blocks cannot escape, the walls will seep because the cinder-blocks are porous and allow moisture to wick through them.
The effect of pooling water in cinder-block foundations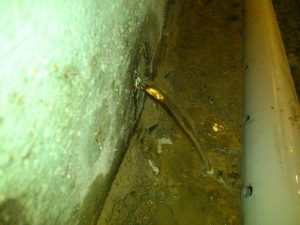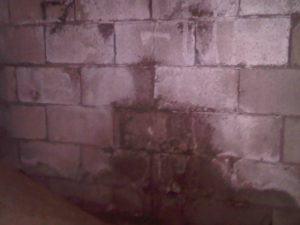 Cinderblock foundation cracks in basement walls are generally observed in the mortar joints binding the blocks together; however, sometimes there are cracks in the blocks themselves. Minor foundation cracks are perfectly normal; what is of importance is where the cracks are – (whether in the mortar joints or the concrete blocks themselves), as well as their width and orientation.
Types of cracks in cinder block foundations
In general, cracks in block foundations can be broken down into two categories:
Hairline cracks; and
Structural cracks
Hairline cracks
Hairline foundation cracks are by far the most common cracks encountered when inspecting foundation walls.
Minor cracks in cinder block foundations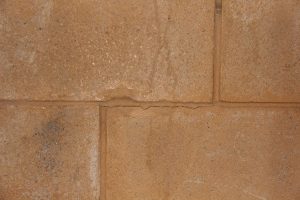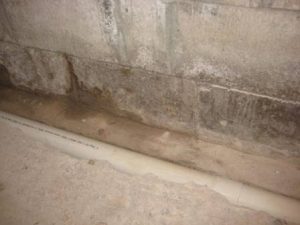 The cracks in the images above are very ordinary and nothing to worry about except for the fact that the foundation is leaking.
Structural cracks
A crack is considered to be "structural" when it pertains to the integrity of the structure.
Noteworthy structural foundation cracks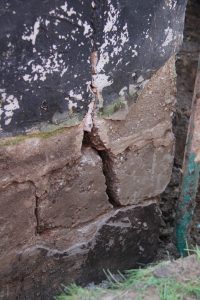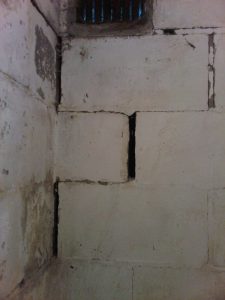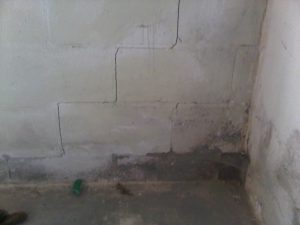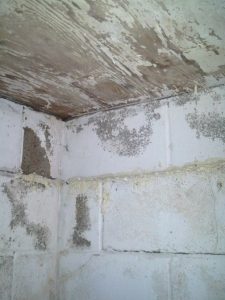 For most homeowners the foundation cracks are minor and the only issue to contend with is the basement dampness or basement leaks. There are two methods to waterproof block foundations: one is the installation of an interior perimeter drain system (which means no digging!) and the other is customary excavation and waterproofing. Just follow the links below to learn more:
Interior basement drainage system / interior weeping tile system
Exterior concrete block waterproofing
When you have structural foundation cracks
When structural cracks are encountered, waterproofing the walls necessarily takes a back seat to foundation repair.
Note: Sometimes waterproofing part or all of a basement becomes a condition of the sale of a property. It is regrettable that in some cases, structural cracks get concealed during waterproofing activities.
The repair of structural foundation cracks is a topic of discussion in its own right. Dealing with these types of cracks requires experience and expertise which is impossible to discern by talking to a basement waterproofing company receptionist. Read more for comprehensive coverage of this topic.