Among the numerous waterproofing solutions that we offer is interior weeping tile system installation, often referred to as an internal perimeter drainage system; this basement waterproofing method is a common waterproofing technique used by most waterproofing contractors. Its widespread use is attributable to its effectiveness (when done properly) and it's applicability to all foundation types – stone, concrete block, and poured concrete.
How an interior weeping tile system is installed
An interior weeping tile system is installed in 8 steps as follows:
Removal of the studwalls along the area in which the perimeter drain system is to be installed;
Jackhammering and removal of the concrete floor along the wall of sufficient width to expose the footing and permit the installation of a drain pipe;
The drilling of weeping holes in the bottom course of the concrete blocks or cinder blocks (allowing the water that accumulated in the blocks to drain out;
Installation of a water collecting PVC pipe next to the footing beneath the basement floor;
Installation of an internal air-gap membrane onto the exposed wall;
Installation of a sump pump and liner if a sump pump is not already present or suitably located;
Connection of the perimeter drain pipe system to the new sump pump or to the existing sump pump; and
Re-pouring of the concrete that was removed to permit perimeter drain system installation.
This is what a typical interior weeping tile system installation looks like: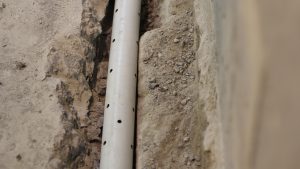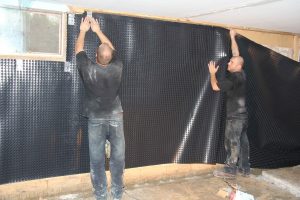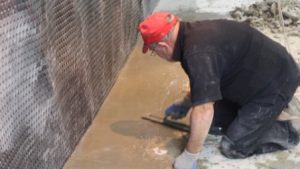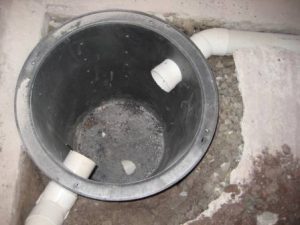 Note 1: There are circumstances when interior weeping tile system installation is your best foundation waterproofing option; for example, when there is landscaping that you do not wish to disturb, or if there is insufficient access to permit external excavation and waterproofing.
Note 2: If you are not sure that an interior weeping tile system is the best basement waterproofing option for your situation, we invite you to explore our Basement Waterproofing Repair Methods table to find out about other waterproofing methods that are available for your type of foundation and the nature of the problem that you have.
Are you considering having your concrete block or cinder block foundation walls waterproofed from the exterior? If so, follow the link to our Concrete Block Foundation Waterproofing page for detailed procedures specific to this type of waterproofing repair.
For greater detail on interior weeping tile system / perimeter drain installation for concrete block and cinder block basement wall waterproofing, click on this hyperlink to the Interior Weeping Tile System page.