When sump pump failure is likely to result in drastic consequences it often makes sense to install a battery back-up sump pump system during sump pump installation or as a retrofit. Battery back-up sump pump systems have two important functions:
The system provides a second sump pump in the event of primary pump failure; and
The battery operated system provides sump pump service when the primary pump cannot operate due to a power failure.
There are quite a few systems that are commercially available. In general, battery back-up systems are similar in appearance and have similar characteristics.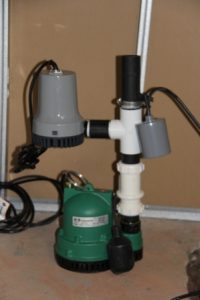 Specifications and Features
In general, battery back-up sump pump systems include the following features:
A 12 volt DC (direct current) pump;
A deep cycle marine battery which typically provides at least 9 hours of continuous operation of the backup pump (this corresponds to pumping out the sump liner 1000 – 2000 times);
A controller/charger/alarm system that monitors the condition of the battery and charges the battery when required. It also provides an alert function to inform a homeowner that the system has operated or that possible flooding conditions exist;
An audible alarm to alert the homeowner when the backup pump runs and when the battery is not charged;
A float switch that causes the pump to operate when the switch is tripped by a high water level within the sump pit; and
A box for storing the marine battery.
A back-up sump pump, albeit small, is typically capable of pumping 1000 gallons of water per hour to a height of 10 feet.
For professional installation of a battery back-up system or sump pump contact us.