Should You Hire a Waterproofing Contractor or Do-it-Yourself?
Historically, waterproofing basement walls was always done by excavating the exterior of the home, or part of it, and then waterproofing the foundation walls on the exterior. This type of work always costed $1000s or $10,000s; as a result, many homeowners dread being faced with a basement leak. Fortunately, today there are internal basement waterproofing solutions that cost substantially less than exterior excavation and waterproofing. Nonetheless, some homeowners still wish to spend as little as possible to waterproof their basement walls and therefore are interested in basement waterproofing as a do-it-yourself project.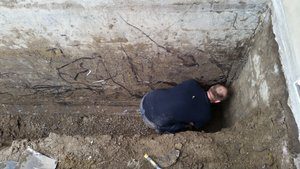 Do-it-Yourself Basement Waterproofing
Waterproofing your home by yourself is appealing because you could conceivably save a substantial amount of money by:
Eliminating labour costs; and
Eliminating a waterproofing contractor's profit.
Homeowners with alot of time on their hands might even look forward to undertaking a sizeable basement waterproofing project just to keep themselves busy.
If you are considering waterproofing basement walls as a do-it-yourself (DIY) project there are some considerations that you should take into account:
Knowledge of basement waterproofing practices and procedures is essential to a successful outcome; if you make mistakes, you may have to call, and pay, a waterproofing contractor to re-do the work properly;
Most neighbourhoods in municipalities such as Burlington, Oakville, Mississauga, Markham, Richmond Hill and Aurora have clay soil. Digging clay with a shovel is extremely hard work; you need to be strong, physically fit and healthy to be able to complete the job (you don't want to have a heart attack from the physical exertion);
You must know the precautions to take with respect to buried hydro and gas lines, and particularly safe excavation practices;
Basement waterproofing requires skill and experience; it is also alot of work;
If you are cutting open your basement floor to install a perimeter drain system you have to be able to control the dust while you are working; and
If you sell your house you won't have a warranty to present to the purchasers.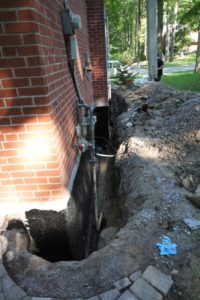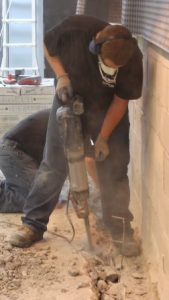 Hiring a Professional Waterproofing Contractor
It must be mentioned that few contractors offering basement wall waterproofing services are exclusively waterproofing contractors. Many jack-of-all-trades contractors claim to be able to waterproof your foundation when in reality they are signing up for a DIY project themselves. If the contractor you decide to hire cannot be found online as a "Waterproofing Contractor" then they are unlikely to be true waterproofing contractors.
If you believe that experience matters, then there are several major advantages to hiring a waterproofing contractor to waterproof your basement:
A good waterproofing company can offer a variety of basement waterproofing repair methods allowing you to save money, reduce re-landscaping costs, and remove mould that has grown behind your basement walls;
A professional waterproofer has access to the latest technologies and products;
A professional waterproofer will guarantee the the basement waterproofing work and provide you with a transferable written warranty;
The waterproofing will be done in the least amount of time possible; and
You save precious personal time that would be lost in researching waterproofing methods, sourcing and purchasing materials, and actually doing the work yourself.
You may wish to click on the hyperlinks below to learn more about the different basement waterproofing methods available to you:
Crack Injection
External Excavation and Waterproofing
Internal De-watering / Perimeter Drain System
Installation
Window Well Drain Installation
Sump Pumps