Basement / foundation wall crack repair is a service offered by basement waterproofing companies and some general contractors. In this post we cover what you need to know about basement wall crack repair so that you'll know how to proceed to get a foundation crack repaired.
Why cracks develop in basement walls
Like death and taxes in life there are also certainties with concrete; one, it will harden and two, it will crack. Fortunately basement wall crack repairs are generally quick and inexpensive.
The most common foundation cracks are caused by concrete shrinkage. Since concrete is composed of water, cement and gravel it shrinks as it cures and dries. While drying, hardened concrete shrinks approximately 1/16 of an inch over a distance of 10 linear feet.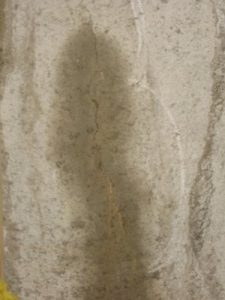 Concrete curing is affected by temperature; if its curing is interrupted by a significant temperature drop, for example an overnight cold snap, the cured concrete will be affected because it contracts as it cools. Conversely, when a foundation is poured in intense heat and sun, it can dry too quickly and crack due to thermal expansion.
Basement cracks also develop due to the settlement of the soil beneath your foundation walls. This can occur when your home's footings aren't wide enough or are damaged. Also, if the soil around your home is saturated with water, or if we haven't had precipitation for quite a while, new problems may develop with the foundation. When the crack width exceeds 1/8 inch it is generally considered to be a "structural" crack.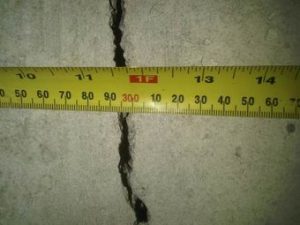 When the soil is saturated the groundwater rises and exerts pressure against your basement walls (hydrostatic pressure); the associated soil pressure can cause basement wall cracks and the hydrostatic pressure causes basement leaks. During extended dry periods, the soil around your foundation shrinks as the water evaporates; this can cause your foundation to settle and often results in the development of one or more new basement wall cracks.
Horizontal cracking, usually observed on the upper part of the wall is usually caused by frost damage, and the freeze-thaw cycle. In most cases, water from your downspouts saturates the soil, as the soil freezes it exerts considerable pressure on the basement wall. In some instances horizontal cracking is caused by heavy equipment travelling too close to the foundation wall during backfilling.
Should you worry about a concrete basement wall crack?
Maybe.
As we discussed above, there are several different types of cracks in basement walls. Depending on crack width and orientation (vertical, horizontal, diagonal), it may or may not be something to be concerned about.
Basement wall cracks can be unsightly when they leak; however, many homeowners feel that if a crack develops in their foundation it is due to poor quality or workmanship. While this could be true, with respect to basement walls, if a crack is not structural, is not too wide (what is acceptable depends on who you ask but any crack <1/8 inch), and is not leaking water, it should be considered to be normal and therefore acceptable – unless you are concerned about a basement leak in the future.
Reputable experts all agree: if you've noticed a crack in your basement wall, you should call in a foundation specialist for an expert opinion (not the opinion of a salesperson!). Unfortunately many homeowners are afraid of calling in specialists because they fear that repairs will cost a fortune. One thing is for sure – cracks don't fix themselves and the cost of a basement wall crack repair is actually quite inexpensive.
Concrete shrinkage cracks are seldom a problem because there are no associated structural concerns. However, these basement wall cracks commonly leak and they often allow insects to get into your home; it just makes sense to deal with them.
There are times when you should be concerned about a basement wall crack, such as a horizontal crack. A horizontal crack indicates that the foundation wall's structural integrity has been undermined and requires professional attention (and usually reinforcement).
Diagonal cracks are typically the result of foundation settlement and should be assessed by an experienced professional as footing support may be required.
Cracks originating from the corner of windows and other openings are usually the result of stress build-up at the window corner and probably account for 40% of the cracks that we repair; in general, these cracks should not cause undue concern.
At the end of the day, all cracks mean something and it is important to take action where warranted. Here a couple of images of cracks that you should be concerned about: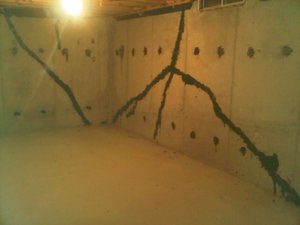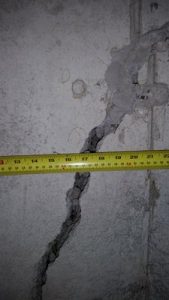 How basement foundation wall cracks are repaired
Based on what we have discussed so far, some basement wall crack repairs are simple while some are more complicated. In general, cracks in poured concrete foundations are repaired quickly and inexpensively – typically using a crack repair process referred to as "crack injection". 99.9% of leaking poured concrete basement walls are repaired using this process; of course another option is to excavate the foundation at the crack location and apply a waterproof barrier over the crack. (see exterior crack repair)
Cinder block foundations crack as well; however, the repair of cracks in block walls is handled completely differently. For more information check out our introduction to concrete block foundation waterproofing.