Planning on buying a home in need of basement leak repairs or selling a home with a wet or leaky basement? Then this must read article is for you.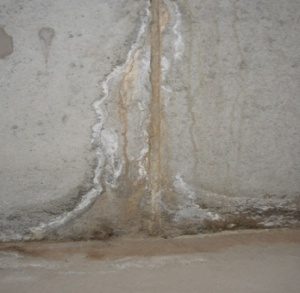 Buying or selling a home with a leaky basement has legal implications
This blog was inspired by an article published in the Business section of the Toronto Star on June 10th, 2013 by Mark Weisleder a Toronto real estate lawyer, on the subject of repair clauses in home sale deals.
In the article, Mr. Weisleder discusses the importance of properly wording repair clauses in an Agreement of Purchase and Sale. Such repair clauses are very relevant in the context of selling a home with a leaky basement as almost every real estate deal contains a clause that the sale is conditional on the buyer being satisfied with the results of a home inspection; evidence of basement leaks is commonly discovered or suspected during these inspections. In many cases, home inspectors check behind the walls of a finished basement for signs of high levels of humidity by using a moisture meter.
How you handle a wet basement during a home sale can be complicated
We've published this article because many buyers and sellers have difficulty dealing with wet basements encountered during real estate transactions. In many instances the cause and magnitude of the problem are not known or understood by either party.
The discovery of basement leaks or excessive basement dampness generates alot of business for us so we are very familiar with many of the issues that arise when it comes to the handling of basement leaks during home sales. Most of these issues come to light:
When a seller decides to rectify the problem prior to listing their home;
When home inspectors report foundation cracks, signs of water damage, or high humidity; and
When purchasers move into their new home and find a puddle on the basement floor not long after they have moved in.
Being able to handle the issues having to do with known basement leaks is important mainly because fixing a wet basement can be quite costly proposition. While it is true that the majority of basement leak repairs for poured concrete foundations often cost less than $1000, extensive excavation and waterproofing could well cost tens of $1000s.
The cost of waterproofing a home is arguably one of the most expensive repairs that a purchaser or seller will ever have to face. Given the amount of money involved, the wise handling of leaky basement repair obligations during a real estate transaction is of crucial importance.
What happens when a house with a wet basement is being sold
The good news is that, in many cases, homeowners who are aware that they have a wet or leaking basement will often have the repairs carried out prior to listing their home for sale. However, some homeowners are unwilling to spend money on waterproofing their basement since they would be doing so primarily for the benefit of prospective purchasers, and therefore leave their basement "as is", introducing risk for both parties. All too often, sellers have concealed foundation cracks and leaks by painting the basement walls or placing household items against the walls so that an inspector is unable to carry out a thorough visual inspection.
When a seller carries out basement leak repairs prior to listing their home for sale, the basement inspection is usually satisfactory and there is typically a transferable written warranty available for the purchasers. This is a sound argument for carrying out the basement repairs prior to listing a home.
When a home inspector reports a foundation crack or other related problem, the deal takes on additional complexity because buyers typically will demand that the repairs be carried out by the vendor prior to closing, making the sale conditional on the repair(s) being carried out. In our experience, most conditions in real estate deals, such as financing and satisfactory home inspections, must be waived within 5 days. Depending on the type of basement waterproofing work that has to be carried out, it may not be possible to complete the work in such a short timeframe. It is at times like this that properly worded repair clauses are of crucial importance. In practice, these repair clauses are usually drafted by the real estate agents involved in the transaction and not a lawyer.
You may want to consult a lawyer
Repairing a few hairline cracks in a foundation is not costly; therefore, incurring legal expenses to draft a repair clause in an Agreement of Purchase and Sale probably doesn't make sense. When the waterproofing of the wet basement is expected to be costly, it probably makes sense to get your lawyer involved in writing a repair clause. As Mr. Weisleder points out in his article, if the repair clause in a home sale contract is not properly worded you might end up in court. Here is a summary of Mr. Weisleder's recommendations:
When it comes to repair obligations, his recommendation is for the seller to get an estimate and give the buyer a credit for the cost of waterproofing repairs on closing;
It is a mistake to think that money can be held back on closing if repairs are not completed as promised. In most cases, the purchaser is obligated to close the deal and sue for the cost of repairs later; and
To be able to hold back money, a clause must be inserted into the Agreement of Purchase and Sale specifically stating that money will be held back until both parties, acting reasonably, determine that the repairs have been completed adequately.
Food for thought
Regrettably, very little in life is black or white so there is no simple checklist to follow when dealing with wet basement waterproofing repair obligations.
While it may seem simple to provide a repair credit to a purchaser on closing, the amount of the credit can easily be a contentious issue because a vendor will obtain the lowest possible quote for leaky basement repairs while the purchaser would typically demand the most professional repairs which never cost the least amount of money. If both parties agree that the seller is to repair the problem prior to closing, there is the potential for a dispute concerning the quality of work actually performed; so it is probably beneficial to specify the name of the waterproofing company that is to carry out any repairs.
Time has proven that some purchasers will not put an offer on a property that they know has a wet basement problem; even a very minor one. Sellers can avoid such situations by carrying out any needed repairs prior to listing their property.