Water seepage from concrete block foundations is a common occurrence and a problem that tends to worsen over time. In this post I will cover the reasons why block foundations leak and the how to fix a leaking cinder block foundation wall.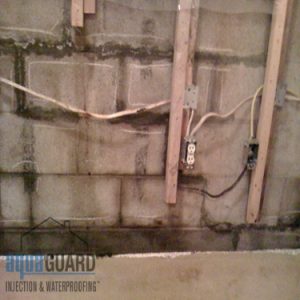 Why block foundations are prone to leaking
Concrete block (sometimes referred to as cinderblock) foundation leakage is quite common for two main reasons:
The blocks are hollow, permitting water to pool within the walls (the source of the water that is seeping); and
Cracking of the mortar joints between the blocks is inevitable given our normal climatic conditions such as: high levels of precipitation and the frequency and extent of daily and seasonal temperature changes.
Unfortunately, problems with seeping concrete block foundation walls don't go away on their own.
How leaking cinder block basement walls are fixed
There are two waterproofing industry recognized repair methods to address leakage; one is done from inside and the other from outside:
Traditional excavation and waterproofing of the foundation; and
How the two approaches differ
While the two approaches used to fix leaking block walls work well and will keep your basement dry, the repair methods have important differences.
Waterproofing foundation walls by excavating them and applying a waterproof coating, and replacing the weeping tile is arguably the best, yet the most destructive, dangerous and expensive way to keep water out of your basement. On the other hand, the internal perimeter drain system is an interior water management approach that allows water trapped in the walls to drain beneath the basement floor into a drain pipe system; the water is then pumped outside using a sump pump. Typically, an interior system is 1/2 to 1/3 the cost of an exterior system because there is no expensive excavation involved. Perimeter drain systems are also useful for situations where a high water table is contributing to water on the basement floor.
Related articles to check out:
Introduction to block foundation waterproofing
You have cracks in your block foundation – should you be worried?