So, you've noticed a crack or a leak in your basement and naturally you're concerned. Whether it is leaking or not, you are likely considering what your options are for a permanent basement wall crack leak repair. Fortunately, you've come to the right place; in this post I've outlined for you the available options for repairing a basement wall crack or leak.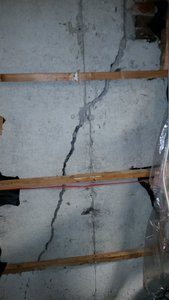 Cracked poured concrete foundation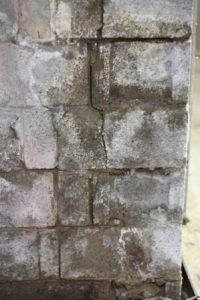 Cracked concrete block foundation
It starts with the foundation type
The type of foundation you have is of critical importance as it dictates the method of wall crack and leak repair that is suitable. To identify the foundation type, look at an unfinished part of the foundation (usually a cold cellar, furnace room, exterior wall, etc.). We need to identify whether you have a poured concrete, cinder/concrete block, stone or brick foundation. If you don't have access to any exposed part of your foundation, you can usually get a good idea by the year the house was built. Houses built before 1950 usually feature stone or double brick foundations; houses built between 1950 and 1978 are typically block while more recently constructed homes are likely to be poured concrete.
What are the options for basement wall crack and leak repair?
Regardless of foundation type, basement cracks and leaks can be fixed from the inside or the outside of the home. However, the actual methods of basement crack and leak repair will vary by foundation type.
Stone/brick/cinder block foundation wall crack leak repair:
These foundations can be repaired by excavating and waterproofing externally or internally by installing an internal perimeter drainage system. While both repair methods can be fairly costly (relative to crack injection), exterior waterproofing is more expensive than interior waterproofing and is much more destructive while offering a very similar end-result to the internal perimeter drainage system.
Poured concrete foundation crack repair:
With a poured concrete foundation the options are simple: we can repair internally via injection or externally by the traditional method of excavating and waterproofing. While both have their merits, external excavation is always far more expensive, destructive and typically "overkill" for issues in poured concrete foundations. On the other hand, foundation crack injection is significantly less invasive, more cost effective and can be done year-round within just a few hours.
Contact the basement wall crack and leak repair Experts You Can Trust.