When many homeowners face the prospect of having to waterproof their basements, they worry plenty about the expected high cost of repair. In general homeowners notice leaking basement wall cracks at some point and often delay fixing these foundation cracks until they become a more serious problem.
When these homeowners find out that there is a low cost alternative to excavation their viewpoint changes completely. This low cost alternative basement wall crack repair method is called crack injection.
The foundation crack injection process has become the most logical and economical concrete crack repair solution across the globe; in fact, the Government of Ontario has an engineering specification for concrete crack repair that is to be followed by contractors working on government contracts. Naturally, for homeowners who have been told by contractors that digging and repairing cracks from outside is the only proper way for fixing basement foundation cracks, inexpensive crack injection offered by companies with in-house expertise in this repair method (there are very few around) often creates a dilemma in their minds. Is it really possible that a basement wall crack repair can be done for such little cost within 2 hours without excavating? Yes it is. It is not only possible but a reality as well.
The concept behind crack repair using injection is to inject a fluid resin, typically polyurethane or epoxy, into the basement wall crack. Under pressure, the resins fill the void (crack) in the foundation right through the wall, effectively eliminating the crack entirely once the resin has cured.
Epoxy and Polyurethane Injection Crack Repairs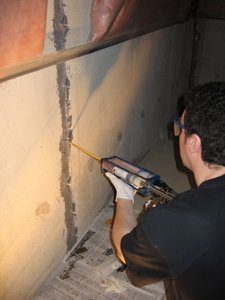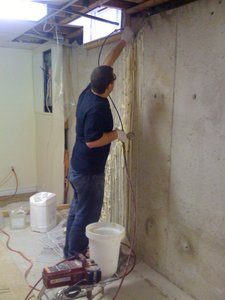 Injection wall crack repairs are only suitable for poured concrete foundations.
Since crack injection is performed from inside the basement, this waterproofing method provides homeowners with a very affordable solution to a problem which in years past would have cost a lot more money in addition to the destruction of landscaping. In the past, the most common methods for dealing with a leaking foundation crack involved the installation of an interior drain tile system (weeping tile system) or excavating around the home – both involving significant labor, resulting in high cost repairs for homeowners. Crack injection is not only more cost effective, it is also a better repair solution because it involves filling foundation cracks and eliminating them, unlike excavation which only prevents water penetration through the cracks.
Most foundation cracks form as a result of concrete shrinkage while curing (water loss as the concrete hardens). When a crack does not appear to be structurally significant (generally the result of foundation settlement) we typically recommend a polyurethane crack injection because polyurethane expands and fills all cavities withing 15 minutes or less. In the past, epoxy crack injection was generally preferred for structural repairs; however, with the use of exterior drainage membranes, the loss of epoxy resin renders this type of injection increasingly unsuitable for basement foundation crack repair.
While using epoxy resin was necessary for the structural repair of foundation cracks in the past, the introduction of carbon fiber staples for crack stabilization has rendered polyurethane crack injection a suitable injection method, even for structural foundation cracks.
Before entering into a contract with a waterproofing contractor for a foundation crack repair it is important to ascertain that the contractor's personnel have the requisite expertise.
Crack injection has been used for basement wall crack repair by waterproofing and foundation repair contractors for over 40 years and has proven to be a highly effective and lowest cost solution for many homeowners. In fact, many contractors offer long term warranties of 25 years or more.