In the basement waterproofing industry, those contractors who specialize in the field refer to themselves as waterproofing contractors. This is an important point to note because basement waterproofing services are offered by many general and landscaping contractors, yet only a fraction of all contractors actually specialize in the field. Consequently, the practices and products used to waterproof basements vary considerably among contractors.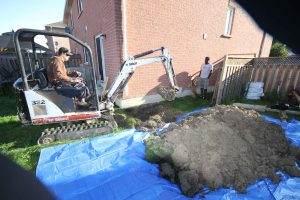 In general, the aim of basement waterproofing is to prevent water from penetrating a foundation and entering the basement. Traditionally, basement waterproofing involved the excavation of the foundation, followed by the application of a protective coating and other material(s) to act as barriers to water entry through the foundation walls. While still commonplace today, external excavation and waterproofing, as a basement waterproofing method, is increasingly being replaced by less expensive and less intrusive basement waterproofing methods. Click on this hyperlink for specific waterproofing methods for poured concrete foundations and on this link for concrete block / cinder block foundations.
As a homeowner contemplating hiring a contractor to perform basement waterproofing work, safety and the basement waterproofing materials should be a primordial consideration.
The safety aspects of basement waterproofing by external excavation
Safe digging practices, the mapping of the location of underground utilities and the safe use of propane torches are of paramount importance. This is an area of foundation waterproofing where precautionary measures are often ignored in order to save contractor's time and money.
Safe digging practices: In the province of Ontario, by law, a worker is not permitted to work in an excavated area exceeding 4' in height. When the digging depth is greater than 4' it is required that the excavation be "stepped" so that there is an excavated ledge at 4' high. This safety practice minimizes the risks to workers from dangers associated with frequent soil cave-ins. Homeowners have a vested interest in the observance of safe digging practices because, should a worker get injured, the homeowner will likely be sued by the injured party. It follows that it is necessary to confirm that a contractor has valid liability insurance.
Location of underground utilities: In the province of Ontario contractors are legally obligated to obtain "locates" (the location of underground utilities) for the area where a proposed excavation will take place. Obtaining locates takes a minimum of five working days; during busy periods, these locates generally take twenty business days to obtain (2018). Locates are done by sending over specialized companies able to detect the precise locations of the underground utilities. Contractors ready to start work basement waterproofing work tomorrow should be avoided as they do not give sufficient importance to the risks of inadvertently cutting gas and power lines during excavation.
The best foundation waterproofing practices and materials
There are many commercially available materials for foundation waterproofing. Each of these materials has unique properties; therefore, these materials and their formulations vary significantly. It is important to ensure that the best products available are used in any basement waterproofing application, especially yours.
Foundation coatings – the building code standard in Ontario, and the most commonly used product remains the sprayed on application of tar. Sprayed on tar has shown over time that it is not sufficiently elastic to handle situations where foundation cracks develop in the future; therefore, homeowners opting for external waterproofing should insist on elastomeric rubber coatings which are elastic. Few waterproofing contractors in and around Toronto actually use these coatings because the application of these waterproof coatings is labour intensive and much more expensive than sprayed on tar.
Foundation wraps / air gap membranes – There are many manufacturers of these membranes; however, the vast majority of brands are fastened to foundation walls using a nail gun. While this installation method is the fastest and most efficient way to install these membranes, driving nails into concrete often causes the development of new cracks and can actually fracture concrete blocks and cinder blocks. Futhermore, the limited penetration of these nails often results in sagging of the membranes, particularly when the excavated area is being backfilled. When hiring a waterproofing contractor, choose a contractor that will fasten the membrane using masonry screws instead.
Weeping Tile – Today, the standard weeping tile is a 4" flexible pipe with thousands of perforations along its length. Ensure that your waterproofing contractor uses a weeping tile that is covered by a sock (a water permeable fabric preventing sediment from the clogging weeping tile).
Drain laying practices – properly installed weeping tile includes a gravel layer surrounding the newly installed weeping tile; this is done in order to provide a secondary drainage path for water at the footing should the weeping tile become clogged. A "professional" waterproofing contractor will enshroud the gravel in filter fabric, in order to prevent the contamination of the weeping tile from sediment over time.