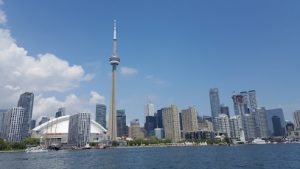 In this post, we provide a quick overview of some of the issues that must be considered when hiring a contractor for basement waterproofing in Toronto.
Any homeowner in need of basement waterproofing in Toronto, or the GTA in general, can be easily overwhelmed by the large number of contractors claiming to offer reliable and long lasting wet basement solutions. To complicate matters further, not all of these contractors offer the best wet basement solution for a specific foundation type and your individual circumstances.
Types of foundations for Toronto homes
In Toronto, some neighbourhoods predate the 1900's while others are relatively new. The age of a home in Toronto typically defines the type of foundation that was used in its construction. In Toronto there are three foundation types, all of which will require basement waterproofing at some point in time. The types of foundations in Toronto are:
Stone – homes built during the 1800s, until the early 1900's;
Double brick – built during the late 1800s to the 1930's;
Concrete block / cinder block – 1930's to late 1970's; and
Poured concrete – early 1900's to present.
Any contractor actively involved in basement waterproofing in Toronto will have encountered these foundation types. True professional waterproofing contractors understand that the foundation type, to a significant extent, defines the available wet basement solutions.
The need for basement waterproofing in Toronto is to some extent influenced by the type of soil on which the home was constructed.
The most common types of soils in Toronto
There are two predominant soil types throughout the GTA: clay and sand. Clay soils are the predominant soil types in most neighbourhoods throughout Toronto, while sandy soils are found in areas in relatively close proximity to Lake Ontario.
Clay soils drain very poorly and tend to hold water. As a result, clay soils exert significant soil and hydrostatic pressure against foundation walls. Sandy soils, on the other hand, drain quite readily. Consequently, neighbourhoods built in sandy areas tend to have fewer basement leaks than those neighbourhoods in Toronto built upon clay soils.
The majority of homes in Toronto predate the 1980s; therefore, the vast majority of those older homes will have either stone or concrete block / cinderblock foundations. Briefly, stone foundations will leak via the mortar that binds the stones to each other; the stone is waterproof but the mortar is not. As long as the mortar joints are exposed to groundwater outside, the mortar will wick water and become saturated. Over the years, the mortar deteriorates and cracks and basement leaks become more pronounced.
Many homes have concrete block / cinder block foundations, similar to stone foundations. Block foundations have many underground mortar joints which typically crack, thus allowing water to penetrate the foundation below grade and fill the largely hollow concrete block / cinder block walls with ground water. Like stone foundations, block foundation mortar joints deteriorate with constant exposure to groundwater.
How your foundation can be waterproofed
Both block and stone foundations in Toronto can be waterproofed either internally or externally. The internal wet basement solution is referred to as an interior weeping tile system while the external wet basement solution is referred to as external excavation and waterproofing. In general, external excavation and waterproofing costs two to three times as much as an interior weeping tile system installation.
The complexity of basement waterproofing in Toronto demands that waterproofing contractors be knowledgeable about many of the factors influencing the most appropriate wet basement solutions. At AquaGuard Injection & Waterproofing® we are aware that, for most people, their home is their largest investment. We invite you to contact us to discuss your basement waterproofing needs.