For many people, choosing the right contractor to do basement waterproofing because they found water in their basement is a daunting task. In fact, hiring a contractor for any project strikes fear in the hearts of most people because many people have either had a bad experience personally, or heard a horror story about a contractor from a friend or acquaintance.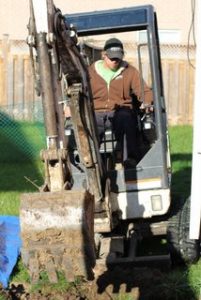 Is your contractor a waterproofing contractor?
A waterproofing contractor is a company that specializes in basement waterproofing (they are also referred to as basement waterproofing contractors). Some cities, such as Toronto, licence contractors offering basement waterproofing services.
A full-service waterproofing contractor will offer virtually every available basement waterproofing repair method. These methods are:
Sump pump installation; and
Click on the following hyperlink for a tabular listing of all basement waterproofing methods.
Hiring a General Contractor to waterproof your basement
While waterproofing contractors specialize in basement waterproofing, many general contractors offer basement waterproofing services to clients who report they have water in their basements. For these general contractors, basement waterproofing is an add-on service that they offer when the opportunity presents itself. Because these general contractors do not specialize in basement waterproofing but are already on-site, they may offer lower pricing to waterproof your basement than the majority of waterproofing contractors.
While the prospect of saving money is, of course, attractive, hiring a generalist to do the job of a specialist carries a real risk that the waterproofing of your basement will be done incorrectly and/or inadequately. This is significant because, by definition, "waterproof" means 100% waterproof; any deficiency in system installation will typically manifest itself in due course.

Another risk for those who decide to go with the less expensive and "convenient" contractor often discover, to their dismay, that the warranty they were given (if they have one at all) isn't worth the paper it is written on. If problems occur, how can someone without expertise figure out what went wrong and then correct it?
How to find a good waterproofing contractor
A very easy way of verifying if any given contractor is a genuine foundation waterproofing contractor is to simply look up their company name with the Better Business Bureau (BBB) http://www.bbb.org/canada/ and confirm that the business is classified under "waterproofing contractors". If the contractor you are considering is not listed, it is because basement waterproofing is not their primary line of business.
It is also a good idea to check out online reviews of companies by using sites such as Homestars; however, there have been reports of fraudulent reviews posted on many sites of this kind. Read more
You can also find online Google reviews under the company's listing in Google Maps.
How to choose between different contractors
Once you have decided that you will get your basement waterproofing work done by a waterproofing contractor, you will then have to decide which contractor best meets your needs. Some of the considerations are as follows:
Does the waterproofing contractor who you are considering offer the full range of wet basement solutions? This is relevant because contractors offering all industry wet basement solutions are more likely to offer you alternative basement waterproofing repair methods which can save you money;
There are some very large basement waterproofing companies that only sell proprietary solutions. This limits your options because a "one size fits all" approach is what will be recommended. As a result, you may end up spending considerably more money than you otherwise would with a contractor who offers the full range of wet basement solutions. Furthermore, the proprietary solution may not be the best/optimal solution for your particular situation; and
There is a real risk that the proposed solution won't actually work as it doesn't address the true problem; even if it is proposed by the biggest contractors around. This is about the diagnosis of the problem, quite often there is not enough time spent figuring out where exactly the water is coming from. You need to ask questions to ensure that the proposed waterproofing solution is the best under the circumstances. Here is a post you should read: Should you replace your weeping tile?
The top waterproofing contractors in the Greater Toronto Area (GTA) not only provide basement waterproofing services, but other related services as well. These services typically include foundation inspections when you are contemplating finishing your basement, foundation inspections either prior to or after the sale of your home, and determing the source(s) of basement leaks.
Be sure to take advantage of the downloads offered on this page as they are designed to arm you with pertinent information on how to choose the right waterproofing contractor and avoid painful mistakes.
If you are too busy or otherwise not inclined to do your own research on basement waterproofing methods and the numerous waterproofing companies who offer them, simply contact us. You'll see how easy it is to make your wet basement a thing of the past!