This page is a "must read" for anyone with a wet basement that needs concrete block foundation waterproofing. On this page we cover:
Why concrete block foundation walls leak
Professional methods used to waterproof block foundations
Links to detailed descriptions of the recommended waterproofing methods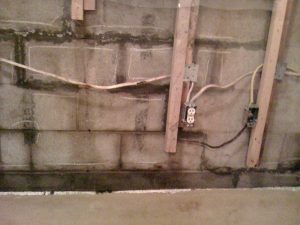 The unfortunate reality is, when it comes to concrete block foundations, it's really just a matter of time before the foundation walls will require some waterproofing. The need to waterproof concrete block foundations is dictated by the construction and inherent characteristics of the concrete / cinder blocks. A concrete block foundation is prone to producing leaks, whatever the underground space.
Why Concrete Block Foundation Walls Leak
The problem with concrete block walls is that the mortar joints between the blocks typically develop hairline cracks over time. This hairline cracking is usually the result of thermal cycling (expansion and contraction due to heating and cooling) of the both the concrete blocks and the mortar that binds them together. Also, shrinking and expanding clay soils, common in and around Toronto, exert and withdraw pressure from foundation walls causing fatigue in the mortar joints over time. This doesn't mean that cracking occurs only within mortar joints; sometimes cracks can be observed in a few or many blocks. Underground concrete block walls typically crack when there is settlement of the footing supporting the foundation walls (often due to erosion), and/or when there is excessive soil pressure against the foundation.
Unless there is significant settlement of the footing, minor cracking in the mortar joints is not really a problem from a structural point of view; unless the mortar joint cracking is horizontal. However, hydrostatic pressure (water pressure against the exterior wall) forces water into these hairline cracks; this is where basement leak problems begin.
Concrete blocks are not solid concrete; in fact, they are largely hollow as you can see in the images below.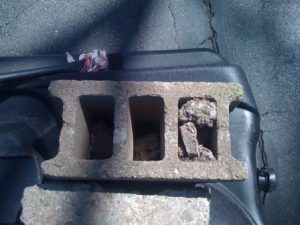 A hairline crack in the mortar joint that bonds any two blocks together, or a crack within a concrete block, will allow water to enter into the hollow areas of the blocks. When this water gets into these hollow cavities, the water drains downwards by gravity and accumulates in the lower courses (rows) of the concrete block wall (the rows of concrete blocks closest to the floor). The water is now trapped in the concrete blocks and will seep; it is common for substantial amounts of water to be trapped within these foundation walls – check out the image below.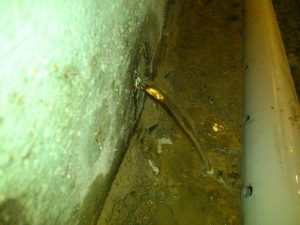 This trapped water, typically saturates the concrete blocks causing them to weep or leak onto the basement floor. Additionally, if the cracks in the mortar joints are sufficiently large and there is a sufficient hydrostatic pressure, water will leak into a basement from the mortar joints between the concrete blocks.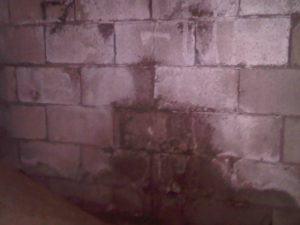 Concrete block foundation cracks and hydrostatic pressure, which is present on the exterior of the foundation, are responsible for leaking concrete block walls. This leaking and/ or seepage into basements creates significant demand for concrete block waterproofing; particularly for homes built between 1950 and the late 1970s in areas such as Burlington, Oakville, Mississauga, Etobicoke, Scarborough, Newmarket, Brampton, Richmond Hill and Toronto.
Methods Used to Waterproof Block Foundations
Waterproofing concrete block foundations can only accomplished using either of the following two methods:
Installation of an internal perimeter drainage system, (sometimes referred to as an interior weeping tile system); and
Waterproofing the exterior concrete block walls by excavating the foundation walls and applying an effective coating to prevent water from coming into contact with the concrete blocks and mortar joints.
Concrete block waterproofing, regardless of the waterproofing method chosen, is intrusive and costs thousands of dollars. Fortunately, concrete block waterproofing, when done professionally with the appropriate products, will provide you with a dry basement for many years.
Links to detailed descriptions of the concrete block waterproofing methods
Interior basement drainage system / interior weeping tile system
Exterior concrete block waterproofing
Concrete block foundation leaks can occur at any time, regardless of the season. To schedule an appointment to find out which concrete block waterproofing method is best for you: contact us.