Damp-proofing and waterproofing are two terms in the basement waterproofing industry that are often used interchangeably; however, it is important to distinguish between waterproofing and damp proofing as they are not one and the same. They are correctly defined as follows:
Waterproofing and Damp-proofing defined
Waterproofing: Treatment of the surface or structure to prevent the passage of water through the building envelope under hydrostatic pressures. Waterproofing provides a full and continuous barrier to water penetration.
Damp-proofing: Treatment of a surface or installation to resist the passage of moisture caused by differences in moisture content, vapour pressure and temperature across the basement envelope in order to prevent accumulation of water against the outer surfaces of the envelope (walls and floor slab).
In short, waterproofing deals with preventing the passage of water that is under pressure (hydrostatic) while damp proofing prevents the passage of water which is not under pressure. The distinction between waterproofing and damp proofing is very important because these treatments provide certain barriers to basement water and moisture infiltration accomplished via distinctly different methods.
Waterproofing and Damp-proofing in detail
Foundation Waterproofing
Foundation waterproofing involves the application of a waterproof coating onto the exterior foundation walls, the purpose of which is to provide a barrier through which water under hydrostatic pressure cannot penetrate. The three most common foundation waterproofing coatings in current use are:
Tar;
Elastomeric rubber coatings; and
Adhesive membranes such as Blue-skin®.
While tar is not as effective as the other two materials for keeping water from penetrating basement foundation walls, it is the standard product used to waterproof foundation walls in new construction applications. The following image shows a foundation wall that is waterproofed with a seamless elastomeric rubber coating. Perfectly applied, no water is getting through this coating.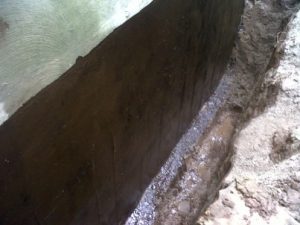 Foundation Damp-proofing
Foundation damp proofing involves the installation of a plastic foundation wrap, or membrane / air-gap membrane, installed onto a waterproofed foundation wall. A proper membrane is configured to facilitate the flow of water, in proximity to a foundation wall, to the weeping tile. Also, the membrane provides a barrier to keep wet soils from being in constant contact with the exterior foundation wall surface. Below is an image of installed air-gap membrane / foundation wrap.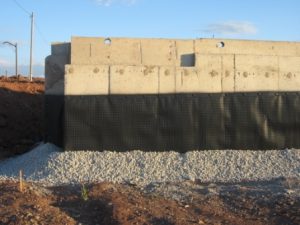 It is worthwhile noting that foundation coatings which are not elastic may also be considered as damp proof coatings; in fact, such sprayed-on coatings are the norm for newly constructed foundations in Ontario.
It is a common misconception that foundation wrap will waterproof a basement wall thus preventing leaks; this is not the case as the membrane is not impervious to water at all of its edges. Only properly applied elastic foundation coatings will adequately waterproof a foundation wall.