First of all, you should know that foundation cracks are absolutely normal. Virtually every home has them; and having a foundation crack does not necessarily mean that your home has structural issues or is poorly constructed. However harmless, foundation cracks should be professionally repaired to protect you against potential basement leaks and concrete foundation deterioration.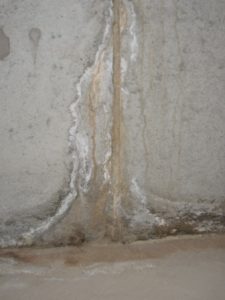 How do you fill cracks in a foundation?
The professional foundation crack repair methods involve the pressurized injection of epoxy and polyurethane resins to fill cracks from the inside to the outside. Given the specialization associated with filling foundation cracks, homeowners do not have access to the required tools or materials to perform pressurized professional foundation crack repairs.

It is important to note that only cracks in poured concrete foundation cracks can be filled. Cracks in concrete block foundations have to be repaired using other methods, simply because cinder block foundations are hollow and thus cannot be filled with resins, unlike poured concrete foundations.
The professional methods used to fill foundation cracks
The process of filling foundation cracks professionally is referred to as crack injection. Crack injection involves the pressurization of epoxy and polyurethane resins to fill cracks in basement walls through their entire thickness. By using this method, the entire crack is filled; in the end, it is as if there was never a crack in the first place.
Not only can injection fill a crack and also waterproof a foundation, but using epoxy resins can also provide a structural repair as well, if applicable.
Foundation crack injection requires specialized equipment, materials and techniques in order to be successful and long lasting; which is why filling cracks is best left to professionals. This is not meant to discredit the do-it-yourself kits sold at some stores as they can be quite effective under very specific conditions.
It is important to note that no two foundation cracks are the same and conditions at the time of repair are seldom ideal. Because of this, do-it-yourself foundation crack filling repairs could become an exercise in frustration as do-it-yourself crack injection kits are designed for textbook cases which are certainly not the norm. In such instances it just makes sense to call in a professional with the right tools, materials and skill.
A foundation crack repair method you should avoid
A common foundation crack repair that we encounter is a patch of hydraulic cement applied over the crack surface; in some instances the crack has been V-ed out to allow the crack to be filled.
Why filling a crack with hydraulic cement is a bad idea
Applying hydraulic cement (whether covering the crack surface or forcing it into the crack) simply provides a temporary obstruction to water penetration of your foundation. It does not fill the crack throughout the entire thickness of the wall, as foundations are typically 20cm thick; thus allowing water to enter the unfilled part of the crack. Water that sits within a crack will saturate the concrete and lead to premature foundation deterioration. Saturated concrete often results in seepage of moisture/water as well as staining, and a weakening of some of the concrete where the crack is located.
Another negative of this crack repair method is that hydraulic cement does not have a strong chemical bond with the foundation; when you have movement in the foundation due to changes in temperature, or soil movement, the hydraulic cement patch usually disbonds from the foundation wall, rendering the repair useless.
Also, in cold weather, when water penetrates the exterior side of the partially obstructed crack, the water can freeze. This freezing causes the volume of the water to increase 9% which could result in expansion of the crack and ongoing basement leaks.
To summarize: there is only one universally accepted method of filling a foundation crack – crack injection. While the do-it-yourself kits and hydraulic cement repair methods are inexpensive and tempting, and may stop water from leaking into your basement, they are seldom the best solution. Call a professional and have it done right the first time.

Wondering just how expensive it is to have a crack professionally filled? Click on this hyperlink to find out how much it costs for a crack injection.