What weeping tile costs
Weeping tile is a very low cost foundation drainage system. Weeping tile can be purchased at contractor supply centres and retail outlets such as Home Depot. Standard 4 inch diameter weeping tile typically costs about $85 for a 100 foot roll as of November 2018.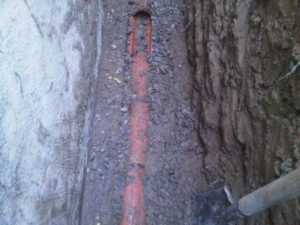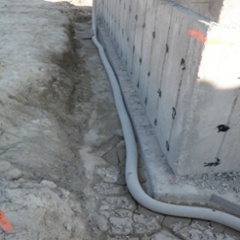 Critical information about weeping tile
Most homeowners looking for information about the cost of installing new weeping tile are primarily interested in finding out what it would cost them to waterproof their foundation from the outside. Usually, this interest is the result of believing, or having been told, that the only way to properly waterproof a basement is by replacing the weeping tile since faulty weeping tile is commonly blamed as being the cause of all basement leaks.
There is no denying that weeping tile has an important role to play in foundation drainage however, the bottom line is that basements leak because water is able to penetrate the foundation walls. Non-draining weeping tile is responsible for maintaining a higher than optimal water table around the foundation, thereby increasing the amount of hydrostatic pressure on the foundation walls. It should be noted that many brand new homes develop basement leaks notwithstanding the fact that the weeping tile systems are fresh and thus are functioning properly and optimally.
As consumers, it is important for homeowners to know that replacing weeping tile is, by far, the most costly way to waterproof a basement. Given that the high price tag of this method of waterproofing results in far larger profits for contractors, it is easy to understand why it's the main reason that weeping tile replacement is recommended so often.
So, now what? Let's get to what you really wanted to know.
Weeping tile related articles
Listed below are hyperlinks to articles on our site that we're sure you will find interesting:
What it costs for basement waterproofing
Your basement is leaking, is it time to replace the weeping tile?
Leak in the basement? Before you replace weeping tile
Basement waterproofing cost reduction strategies for homeowners
Concrete block basement waterproofing – External Waterproofing