You have a wet basement: now what?
Discovering water in your basement is certainly not a pleasant experience. At a time like this it is great to have a "Go To" person to solve the problem fast. Before contemplating expensive basement sealing work you should know that not all wet basements actually require a costly wet basement repair.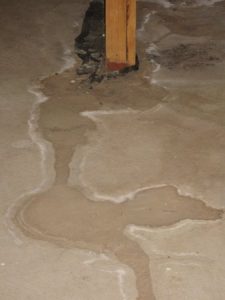 Knowing why your basement is wet is crucial!
If you want to make sure that the problem in your basement gets fixed properly and that you don't spend money for nothing, or on the wrong type of repair, you must know why you are getting water in your basement; sometimes it is quite tricky to accurately determine what is going on in leaking basements. Here are a couple of links to help you figure out what exactly is going on:
How to recognize basement leaks and;
Sources of basement leaks.
Similar to car repairs, if you don't know what is broken you generally end up replacing parts for nothing which = money down the drain. If you can't pinpoint the problem yourself you will need to have a thorough inspection done by an experienced basement waterproofing professional.
In general, if the source of the leak into your basement cannot be conclusively proven then you risk signing up for foundation sealing that you don't need; or worse, for the wrong kind of repair which won't solve the problem (this happens more often than you might imagine).
Once the cause of your wet basement has been positively identified click this hyperlink for a comprehensive list of professional repair methods to fix a wet basement: Basement Waterproofing Methods. Once you've identified the suitable waterproofing repair solutions, you are ready to get the problem fixed.
When to call a plumber
Finding water in your basement doesn't always mean that your basement walls are leaking. After 1000's of leaky basement inspections we've encountered plumbing leaks which the average homeowner can find with a little bit of detective work.
We recommend that you do as much of your own investigation as possible to avoid an unnecessary service call that will cost you money. Also, calling in the wrong tradesperson will extend the amount of time it takes to finally get the leak fixed.
Sure signs of plumbing leaks
It is usually pretty easy to spot a plumbing leak in an unfinished basement because everything is easily visible (we recommend that you use a flashlight to help find the problem). The most obvious situation requiring a plumber is when you can see water backing up from the floor drain as this means that the sewer is backing up into your basement.
In an unfinished basement there are 2 plumbing leak dead giveaways that you can easily spot:
Water actively dripping from an overhead drain pipe or water line; and
Drain pipes, which are black in colour, with white staining on them, caused by the mineral content of the water.
Finding a plumbing leak in a finished basement may also be easy to determine. Most plumbing leaks in finished basements will have associated ceiling damage and staining. In addition, these leaks are generally to be found in the basement beneath the general location of the kitchen sink on the main level.
If any of the above signs apply to you then you need to call in a plumber.
What's involved in repairing a foundation leak
A leaking foundation strikes fear in the heart of many homeowners because they immediately envision having to dig up their home to waterproof the foundation walls. Fear not: in almost every instance it is possible to fix foundation leaks from inside the home and almost always for far less money than what it costs to excavate and waterproof the exterior foundation walls.
How a wet basement is repaired is based upon 2 factors: what the problem is and the type of foundation involved. Here are a couple of links for information on how different foundations are waterproofed:
Poured concrete foundations (1975 – present); and
Concrete block / cinder block foundations (before 1980).