Fixing a basement leak is not something that most homeowners know much about or are interested in doing so they look to waterproofing contractors and general contractors for wet basement repair. Basement waterproofing is very much a specialty so, like plumbing and dentistry, it is best to leave such repairs to industry professionals (just as it is the case for your occupation).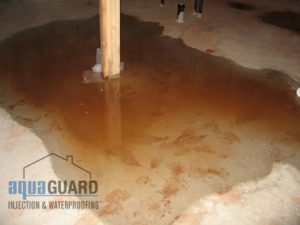 The good news is that most wet basements are easily fixed. In addition, many basement leaks can be repaired for just a few hundred dollars.
Table of Contents
The Types of Available Waterproofing Repairs
External Waterproofing Repair Applications
Internal Waterproofing Repairs
The Cost to Waterproof a Basement
Choosing the Right Contractor to Repair a Basement Leak
Available wet basement repair options
Basement waterproofing can be broadly categorized as interior and exterior waterproofing repairs. Exterior waterproofing is the traditional method for wet basement repair and likely the most well known; however, it is also the most destructive and expensive waterproofing method to use. Internal waterproofing has rapidly gained popularity over the past two decades largely due to its low cost. Fixing a wet basement on the inside is much cheaper than repairs involving excavation and they are generally carried out in a shorter time frame.
The widespread construction of homes with poured concrete foundations in the Greater Toronto Area has exponentially increased the the number of wet basement repairs done from inside the home. This is because poured concrete foundation leaks are quickly and inexpensively fixed using pressurized epoxy and polyurethane injections.
Click this hyperlink to consult our list of waterproofing methods which is categorized by foundation type.
External wet basement repair applications
Some leaking basement repairs are done on the exterior, involving excavation, for reasons such as:
Preventing further deterioration of the foundation; and
When a basement cannot be waterproofed from the inside due to accessibility constraints.
The majority of basement excavations are done to:
Repair leaks from behind electrical panels;
Install window well drains; and
Repair cracks in poured concrete foundations.
Internal Waterproofing Repairs
Basement waterproofing repairs from inside a home are always less expensive than those carried out on the exterior because no excavation is required; also, decks, patios, driveways and landscaping don't need to be destroyed in order to gain access for excavating the wall(s) requiring waterproofing.  It should also be noted that interior basement waterproofing is very effective, so much so that some companies offer internal waterproofing repair methods exclusively.
Cost and minimal destruction to landscaping are probably the two main reasons that many homeowners today will opt for fixing their wet basement from the inside; however, removing mould growth behind finished basement walls is quickly becoming the primary reason for repairs leaks using inside waterproofing methods. One huge advantage of internal waterproofing is that it doesn't matter how much space there is between two homes, particularly in older areas of Toronto where homes are very close together.
Many wet basements are repaired from inside in order to:
Install perimeter drain systems and de-water concrete / cinderblock walls;
Get rid of mouldy drywall and rotten framing and subfloors; and
To save money and avoid the destruction associated with excavation.
The Cost to Waterproof a Basement
We've mentioned that internal wet basement repairs cost a fraction of what it costs to waterproof a basement using traditional excavation methods. Generally, excavation costs 2 – 3 times what it would cost for waterproofing a basement from the inside.
For greater detail on the cost of basement waterproofing, consult our article "What it Costs For Basement Waterproofing"

Choosing the "Right" Contractor to Fix a Basement Leak
Picking the method to fix your wet basement is a big decision and there are many technical factors that have to be taken into account; however, the waterproofing method that you choose is not necessarily the most important decision that you have to make. What is extremely important is your choice of contractors to carry out the work.
Choosing the "right" waterproofing contractor is super important for two reasons:
Because the job has to be done in accordance with industry standard practices and done well; and
The source of the wet basement problem must be correctly diagnosed.
We cannot overstate the importance of the second point. Unfortunately, countless homeowners agree to significant basement waterproofing , when much cheaper alternatives are available, and regularly waterproof their basements when the water in their basement is not the result of a basement leak.