Many homeowners despise having a damp, musty basement. If a basement is an unpleasant living space it won't be used other than as a storage space; this represents a huge loss of liveable area in any home. Fortunately you can take damp-proofing measures to get rid of basement dampness, sometimes for less than $200!
Table of Contents:
Why a basement is damp
Damp-proofing measures in home construction
How to damp-proof your basement
Damp-proofing a leaky basement
Excessive basement dampness is a relative expression in that it usually means that the relative humidity of the ambient air is considered to be too high. Most homeowners dislike high humidity basement environments because basement dampness often produces noxious vapours.
Why a Basement is Damp
Getting rid of basement dampness may or may not require costly and extensive damp proofing measures; it depends on why the basement is excessively damp in the first place.
Unlike the main living areas in most homes, basements have damp soil resting against the exterior walls on all sides (except walkout basements) and beneath the basement floor slab. Because concrete is a porous material, moisture from the damp soil wicks through the foundation walls, introducing moisture into the basement air. Unless there is good air circulation in a basement (basement windows are open to ventilate the air) the basement air will contain alot of moisture; the warmer the air, the higher the moisture content.
Another cause of excessive basement dampness is a leaking basement. Many fully finished basements have leaks in the foundation which are not known to the homeowners.

Damp-proofing Measures in Home Construction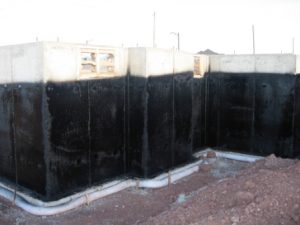 Given that damp soils are pretty much a given in many areas, building codes have requirements that builders must follow to minimize basement dampness.
At present, in the Greater Toronto Area, builders install a vapour barrier (thick sheet of plastic) on the ground before they pour the basement floor slab; this constitutes damp proofing of the floor slab.
Note: many homes built with concrete block foundations (1940's – 1970's) do not have this vapour barrier under the basement floor.
Similarly, damp-proof membranes, such as a tar coating and / or air-gap membrane (foundation wrap), are applied to the exterior foundation walls to minimize the moisture permeability of the foundation walls. The presence of these damp-proofing measures varies considerably among communities.
How to Damp-proof Your Basement
The most appropriate measures to take in order to have a dry basement vary with the cause(s) of basement dampness.
If there is no evidence that your basement is leaking, all you probably need to do is use a dehumidifier in your basement. A dehumidifier is essentially an air conditioning unit which causes the moisture in the basement air to condense on coils and drip into an integral water container which you would empty as required or drain to your floor drain. If you are using a dehumidifier you need to ensure that the door to the main level remains closed; otherwise you will be trying to dehumidify the air from the entire home, which is unrealistic for the average dehumidifier. Similarly, the basement windows must remain closed so that you are not trying to dehumidify the outside air.
In many cases, introducing a dehumidifier in your basement will result in much drier basement air and therefore, less dampness. Many decent dehumidifiers can be purchased for $200 or less (just make sure you purchase one with the option of setting the desired relative humidity). If your basement is leaking, or if you have noticeably damp basement walls, then waterproofing / damp-proofing measures are required. While a dehumidifier will still make a difference, getting to the heart of the problem is the real solution.
Damp-proofing a Leaky Basement
The only way to damp proof a leaky basement is to prevent it from leaking and/or introducing moisture into the basement air.
Follow this hyperlink for a list of all professional waterproofing repair methods available for each foundation type.
Many homeowners cringe at the need of having basement waterproofing work done because of the perceived high cost. In some instances, handy homeowners will attempt to seal the interior side of their foundation walls. While this approach to damp-proofing may work over the short term, this approach is a bad idea over the long term. Why? The application of sealants on the indoor side of foundation walls traps water in the foundation walls. Since concrete foundation walls are porous, the concrete will deteriorate at an accelerated pace. Sealants must be applied to the exterior side of foundation walls only.
Our discussion so far has led us into the broader subject of basement waterproofing. Here is a list of handy gateway links to follow from here:
Poured concrete foundation waterproofing
Concrete block / cinder block foundation waterproofing
The cost of basement waterproofing