Before Finishing Your Basement – Check for Undetected Leaks!
Contents:
Why the best time to check for basement leaks is before you finish your basement
A common but seldom detected problem
Common sources of basement leaks
How to avoid leaks in your finished basement
Introduction
Finishing a basement is an exciting time for homeowners for lots of reasons:
The liveable area of the home is being increased;
You now have room for the home theatre you always wanted;
An older child will have a private space of their own;
A guest bedroom will be available for friends and family;
The kids will have a dedicated play area;
There is finally a nice space for that home office or workshop; and the list goes on.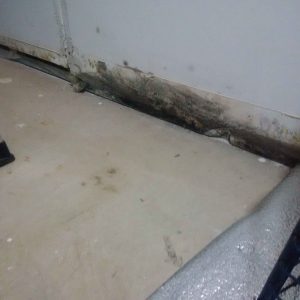 Why the best time to check for basement leaks is before you finish your basement
All would agree that the last thing you need is to finally complete your basement finishing project and then find out that there is a basement leak that needs to be fixed – NOW; forcing you to cut open walls that were just finished and painted (and you've probably run out of money by now…).
Obviously we only meet homeowners that have wet basement issues or are concerned about the possibility of having future basement leaks. When we meet with clients, they commonly report that they never noticed a leak in their basement before; usually because it rarely happens or they don't go down to the basement often.
A common but seldom detected problem
Basement leaks don't always come through your foundation walls; here is an example: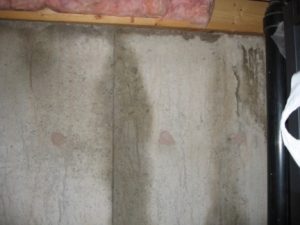 A basement leak from the top of the foundation wall means that water is getting onto the top of the foundation, which is usually flat, and travelling until there is a low point allowing the water to pour down the wall. This problem is usually caused by rain penetrating the building envelope in the following locations:
Rain penetrates the above grade exterior wall around the patio door frame;
Rain or snow penetrates the building envelope through gaps on window sills; and
The grading / landscaping is too high, permitting surface run-off water to get onto the top of the foundation.
Common sources of basement leaks
Water leaking from the top of your foundation is only one example of a leak which is not considered to be a "classical" basement leak. Some basements get wet because of plumbing leaks, a rising water table, condensation, and the list goes on.
Of course, there are real basement leaks which may have gone undetected, as well as foundation cracks and similar gaps in your foundation which could start leaking in the future.

Foundation walls in unfinished basements are usually insulated for 4 feet at the top; however, recent changes to the building code mandate that insulation is to be installed for the full wall height. Finding leaks and potential leaks will require that you examine your foundation by looking behind the insulation.
Check out this page for many images of typical basement leaks you could encounter: Sources and evidence of basement leaks
How to avoid basement leaks in your finished basement
The one take away from this article is that it is of vital importance that you carry out a detailed visual inspection of your basement for signs of water entry before you start finishing your basement. If you notice any cracks or other irregularities such as mineral or soil stains, efflorescence, poorly mixed concrete (honeycombing), damp spots or dark stains on the concrete, you need to sort this out before you close the walls.
If you have leaks behind your finished basement walls you will usually end up with mouldy drywall, baseboards and framing, damaged flooring, mouldy insulation, and even ruined furniture. Aside from the detrimental health implications associated with mould, if there is ever a leak, the finished basement wall will have to be cut open, the drywall replaced and repainted, the flooring may have to be replaced, and some of your damaged furniture may have to be thrown out.

Don't get stuck with unanticipated expenses! Active and potential leaks are common in basements around the GTA. It is recommended that you budget for waterproofing work as part of your renovation and construction planning.
You may not wish to spend your hard earned money on preventive basement waterproofing but, in the long run, it is probably in your financial interest to do so. With that in mind check out this article:
Do I have to fix cracks in my poured concrete foundation which have never leaked?

When you have any waterproofing done you must test the repair(s) aggressively before you close the walls. To accomplish this, simply lay your garden hose against the foundation wall in the location you want to test. Let the hose run for an hour or two; make sure you watch inside for flooding! If your foundation can leak, it will if you conduct this test. If you can't make your foundation leak, you're good to go.